Branding Albertine, the world's most advanced concierge service
08/11/22
By Aapo Bovellan
Led by former Uber and Quintessentially executives, Albertine is the world's most advanced concierge service. With a responsive chat, a clear log of your open and confirmed requests, inspiring content, and a program for giving back, Albertine sets the new standard for concierge services. As one of the earliest shareholders, Proxy mapped out the brand strategy and created the name. Proxy is one of few specialised brand naming practices in Europe.
I have had the privilege to be able to experience many concierge services in my life. Without exception, they have been cumbersome and disappointing. You have to call or email your requests in. You don't really know where your request is going, and when somebody will attend to it. And then after the all the wait, a day before you are due to arrive in Jersey for two months, your Mini Convertible with automatic transmission has somehow turned into a Vauxhall Corsa with manual transmission.

Making luxury bookings as simple as ordering a pizza or Uber

When we first discussed a better concierge service with the founding team, I immediately connected with their vision. How come ordering a £9.95 pizza or a £12.04 Uber is so nice and easy, but booking a luxury trip is so cumbersome? Why can't I just text with the concierge while sitting in a cab or a meeting? Why can't I see where my order is going? Why do I need to weed through my emails to find my gallery tickets?

Creating the ultimate concierge app is a simple vision, but one that is really difficult to implement. As it turns out, traditional concierge companies have great supplier connections in the luxury and travel space, but are poor - or outright incapable - in creating enjoyable digital experiences. App companies are great in tech, but poorly connected in the luxury and travel industry. Albertine is unique - with former executives from Uber and Quintessentially, it masters both worlds, allowing it to create a digital luxury service like nothing before it.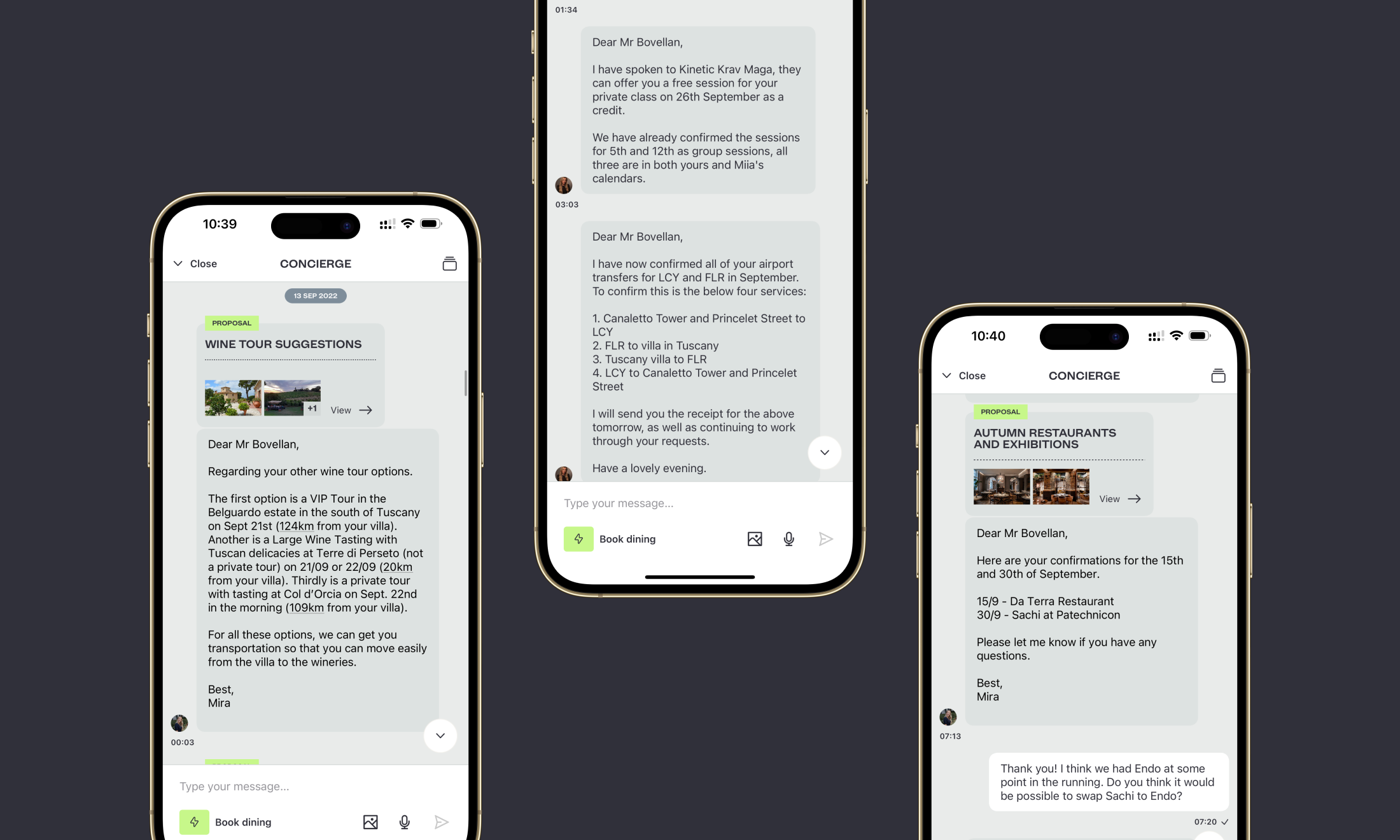 Developing a brand strategy
As the company started to take shape, we were asked to develop a brand strategy for the new, chat-based concierge app. Utilising the Proxy Brand Framework, we helped the founders concisely articulate the crucial differentiators and signature brand moments for Albertine - pinging your request, seeing progress, getting your itinerary, enjoying the experience, and making a positive impact. From there, we developed a creative brief and moodboard for the brand identity.

To stand out from traditional concierge services, the branding would need to feel contemporary, effortless, speedy and understated. While the traditional luxury space is dominated by dark, glossy visuals, Albertine should feel light, bright and real - with a hit of zingy green to signify speed and digital. Where traditional luxury services can't seem to resist the occasional aristocratic serif, Albertine should only use a contemporary sans serif.
Creating a standout brand name
As the team was intending to go directly head-to-head against Velocity Black, Quintessentially, John Paul and Centurion, it needed a strong name that would both associate it to luxury, but also differentiate it as the faster, fresher, more contemporary experience. Phonetically, we wanted the name to combine approachability and personal touch, while being clearly in the luxury domain. Through three rounds of name development, we finally landed on the name 'Albertine'.

Albertine originates from the old-German name Adalbert, meaning noble, bright and intelligent. The English name Albert associates to a butler, evoking a feeling of personal, warm service - but also feeling a bit dusty and old. When we added the female 'tine' in the end, something magical happened. The dustiness is gone, the extra 'I' brightens up the name, and the 'N' softens the ending of it. Albertine feels contemporary and light, yet appropriate for a luxury company. The name was bound to perform well in SEO and trademarking, with excellent general availability.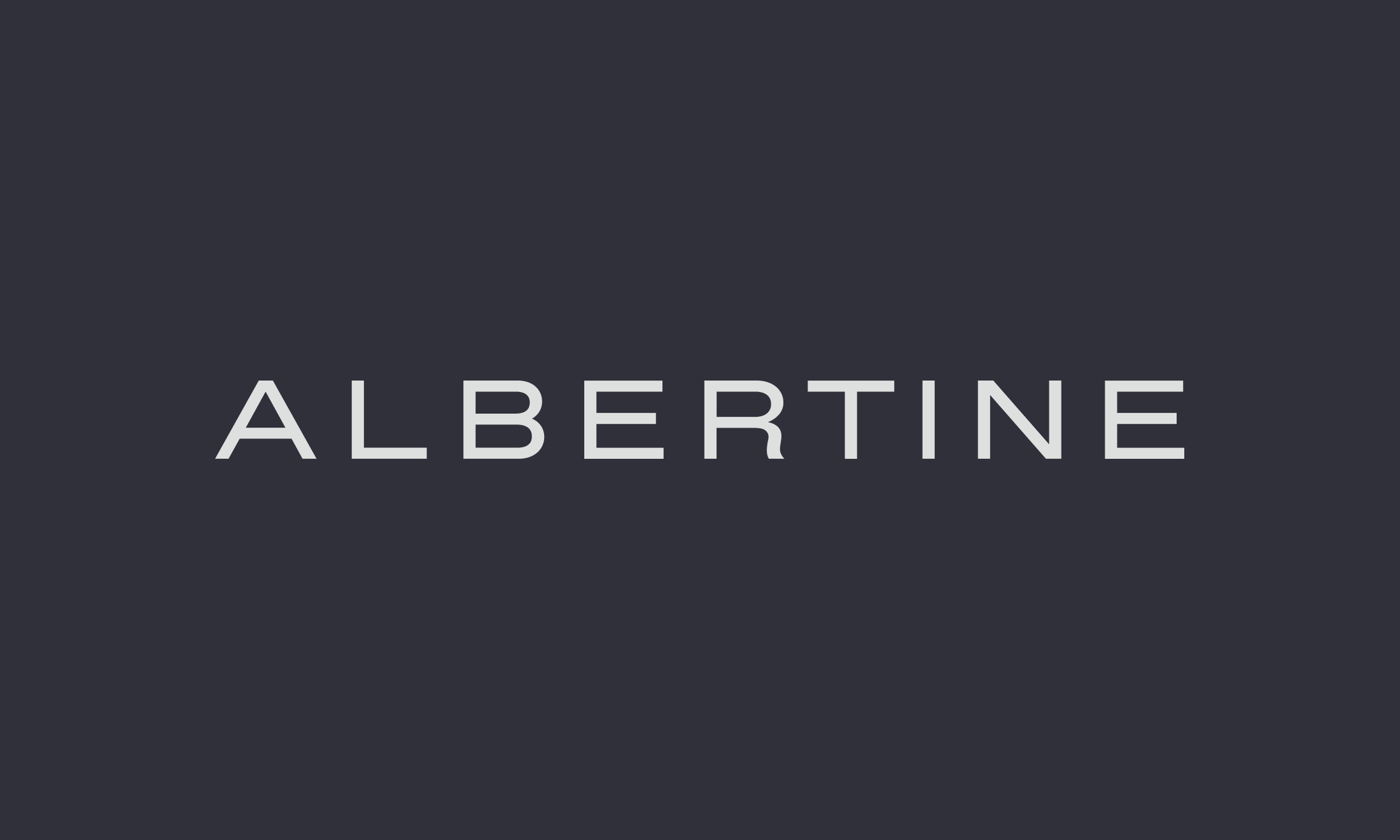 Evolving the experience
With the name and brand strategy in place, Albertine's in-house design team took on the brand strategy and name. As lined out in the brand strategy, the Albertine design team took to an understated colour way of warm neutrals – a canvas for colourful experiences. The colours are complemented with the tiniest of hits of an electric green, to imply actions and progress - speed. A contemporary extended grotesk typeface was chosen for headers, and a standard case for the interface.

The user interface developed at Albertine takes the brand strategy to its ultimate conclusion. An airy interface with beautiful imagery creates an inspiring, relaxing experience. Ample clear space creates a sense of ease and effortlessness. Lush transitions and background animations finalise the contemporary feel.

No mockups
Jamie, a creative at Proxy, has a passion to minimise the use of theoretical mockups in Proxy case studies. For Albertine, every image on the blog post has been captured from my iPhone 14 Pro Max, as both Miia and I are paying subscribers to Albertine, and love the experience.