27/08/21
By Isobel Rutherford
A craving for inspiration after a year spent shut in our homes guided our choice of location, for there is plenty around our new base: Brick Lane.
Leaving Clerkenwell
Mid march 2020 had us standing outside our office block in Clerkenwell, holding pints and bubble wrapped iMacs as we awaited Ubers to come and take us our separate ways. Back then, we had no idea how long the pandemic would force us to work from home — much less that in fact we would never all spend Mondays to Fridays in the office again.
As the vaccination program rolled out across the UK and we were able to return to our old way of working, we found we no longer wanted to. In two weeks we packed up the essentials from our studio and sent the rest to storage. We moved East, to the creative heart of the city, taking a space a fraction of the size we had before and filling it with books and art. We wanted less square footage because we wanted to spend less time there. The rest would be spent working from wherever we felt like, an approach designed to champion creativity. A craving for inspiration after a year spent shut in our homes guided our choice of location, for there is plenty on the street visible from the window of our new base: Brick Lane.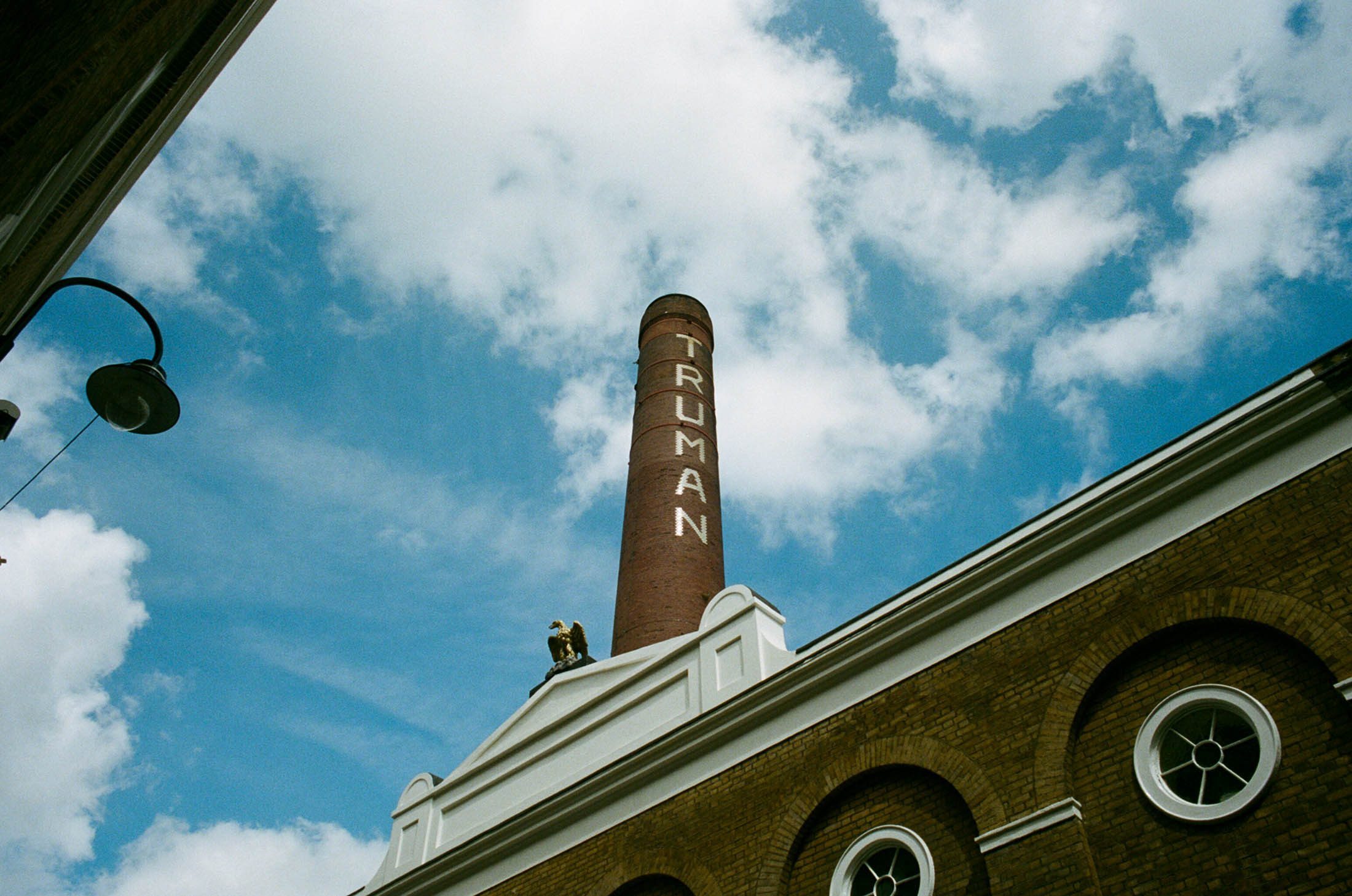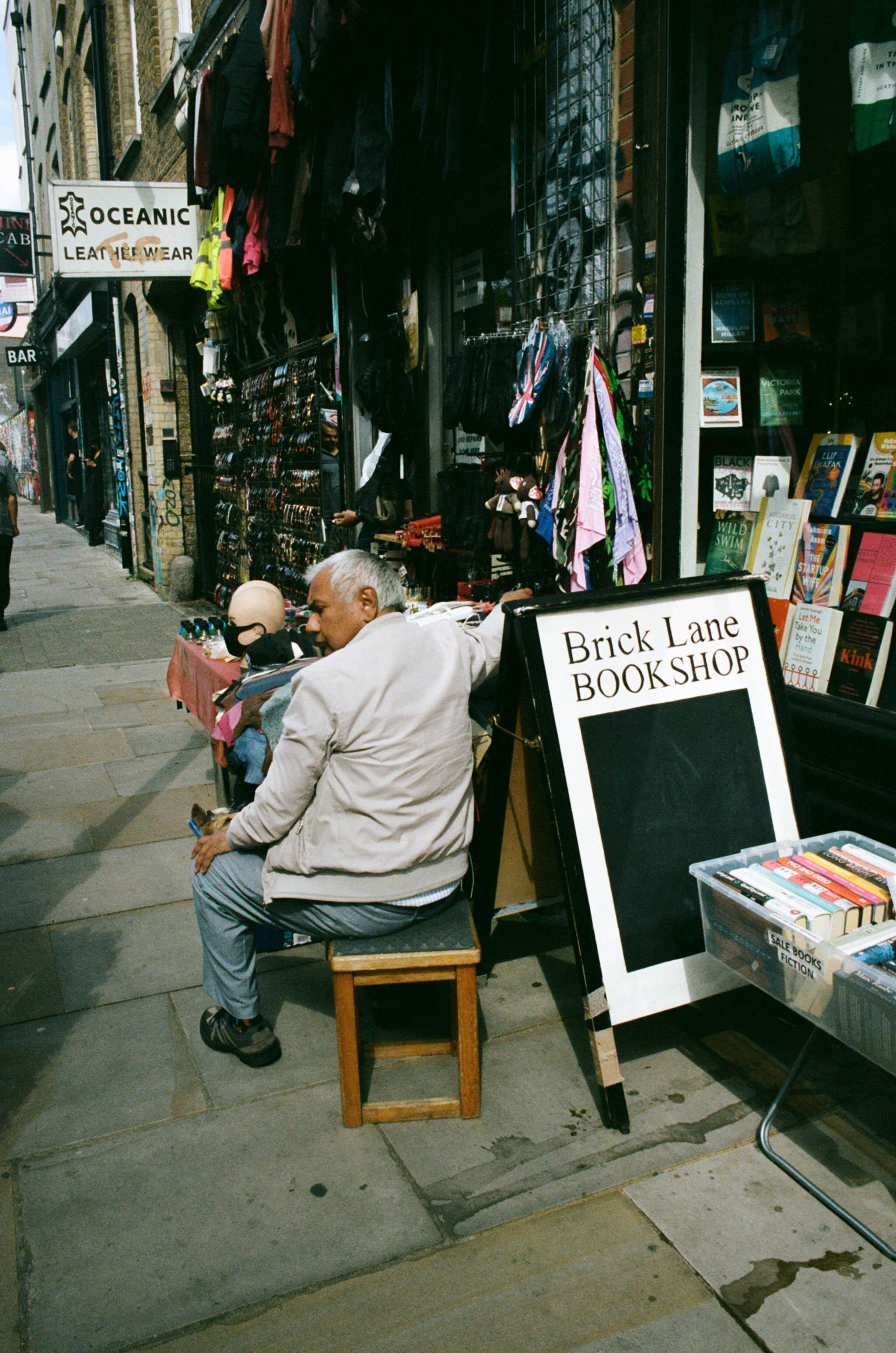 Brick Lane is a palimpsest; a street whose story is written and written over again and again. Shutters pull down to reveal street art and graffiti, while the walls are covered with the same. Buildings become collages of posters for upcoming gigs and music releases, which peel back to reveal the ones that came before. These are interspersed with political manifestos and satirical art, truisms and poetry.
The layers of creativity that adorn the walls reflect the street's layers of history. This is a place people have migrated to in waves — French protestants fleeing persecution in the eighteenth century, Jewish immigrants in the nineteenth century and the Bangladeshi community the century after that. One building near the part of the lane that intersects with Princelet Street started out as a vestry and school in the eighteenth century and has been passed from the French Protestant community, to an evangelical Christian group, to a methodist group, to an orthodox Jewish group before it became a mosque in the seventies.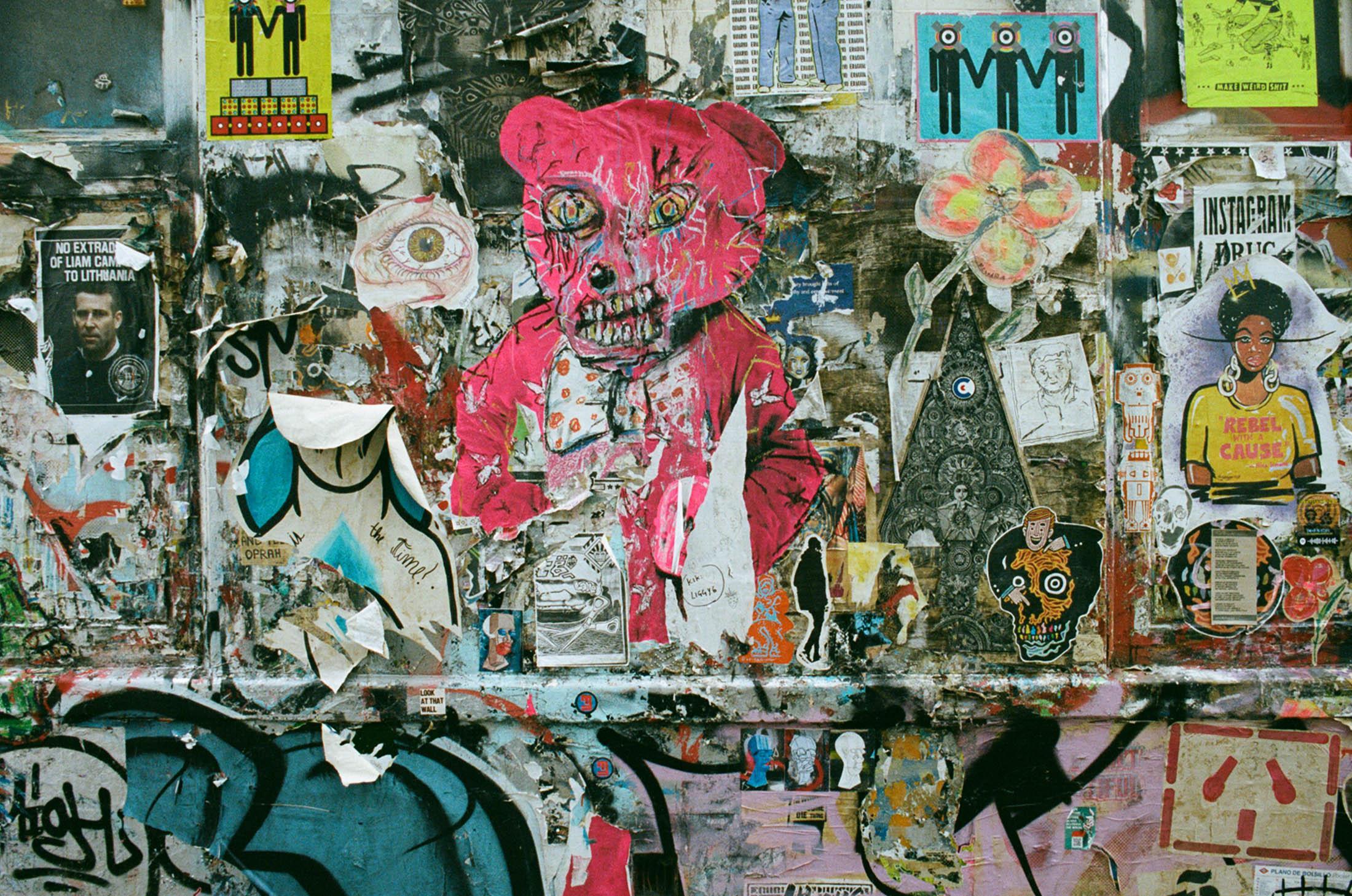 The rich history of this part of London and its multitude of influences are not only present in the street art but in the wares available to buy — Brick Lane is known for its vintage scene and can turn up pieces from all over the world. Doorways open on to stairwells that echo loud music from basements filled with collections of vintage clothes arranged by size and colour. Second hand garments from all decades and styles find their way here and are bought by an equally diverse set of thrifters.
Standing out among the historic rooftops is the chimney of The Old Truman Brewery, which has been on Brick Lane for hundreds of years. No longer operating, it's now home to many bars and restaurants as well as creative businesses, independent shops, markets and pop up galleries.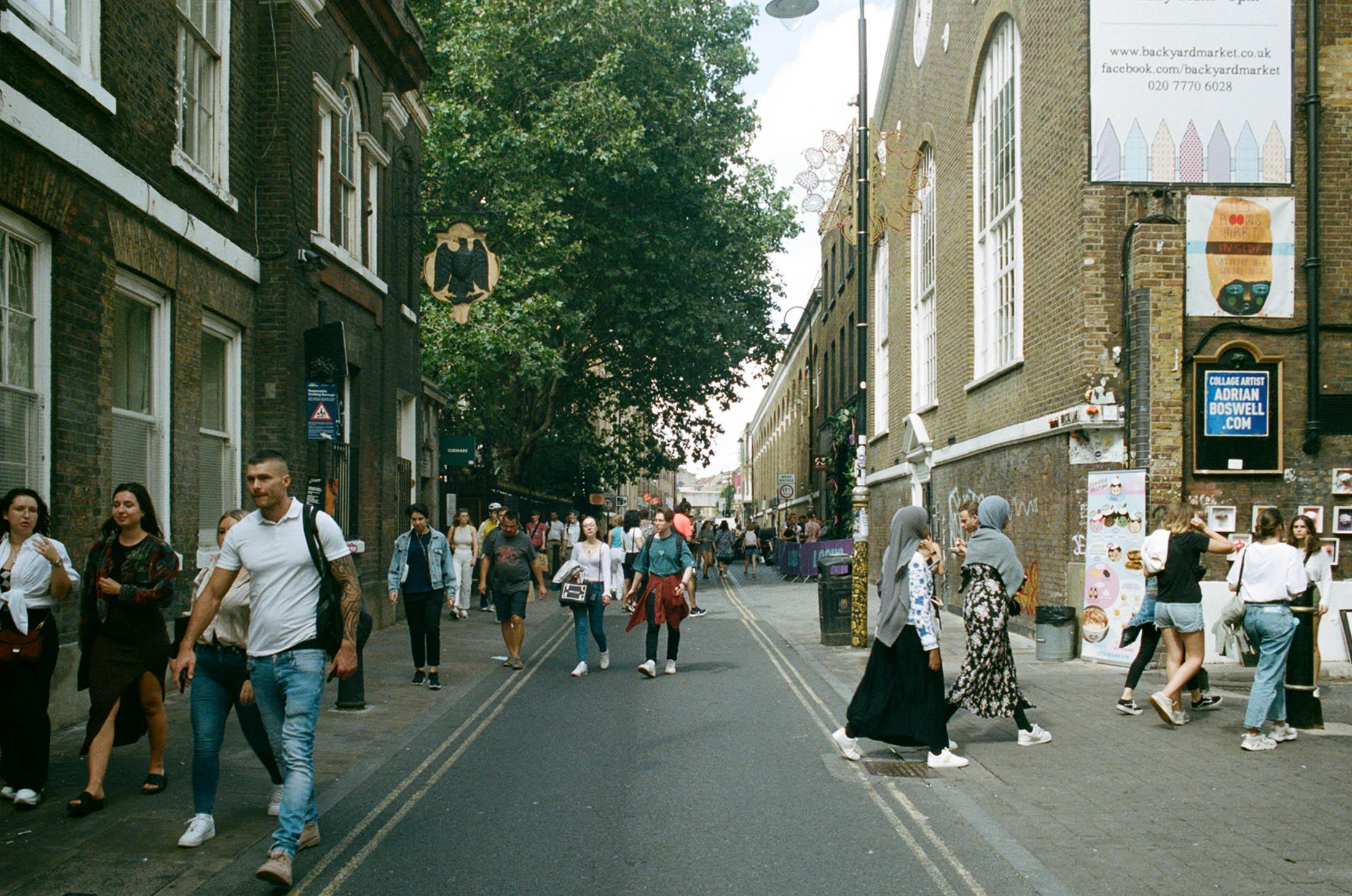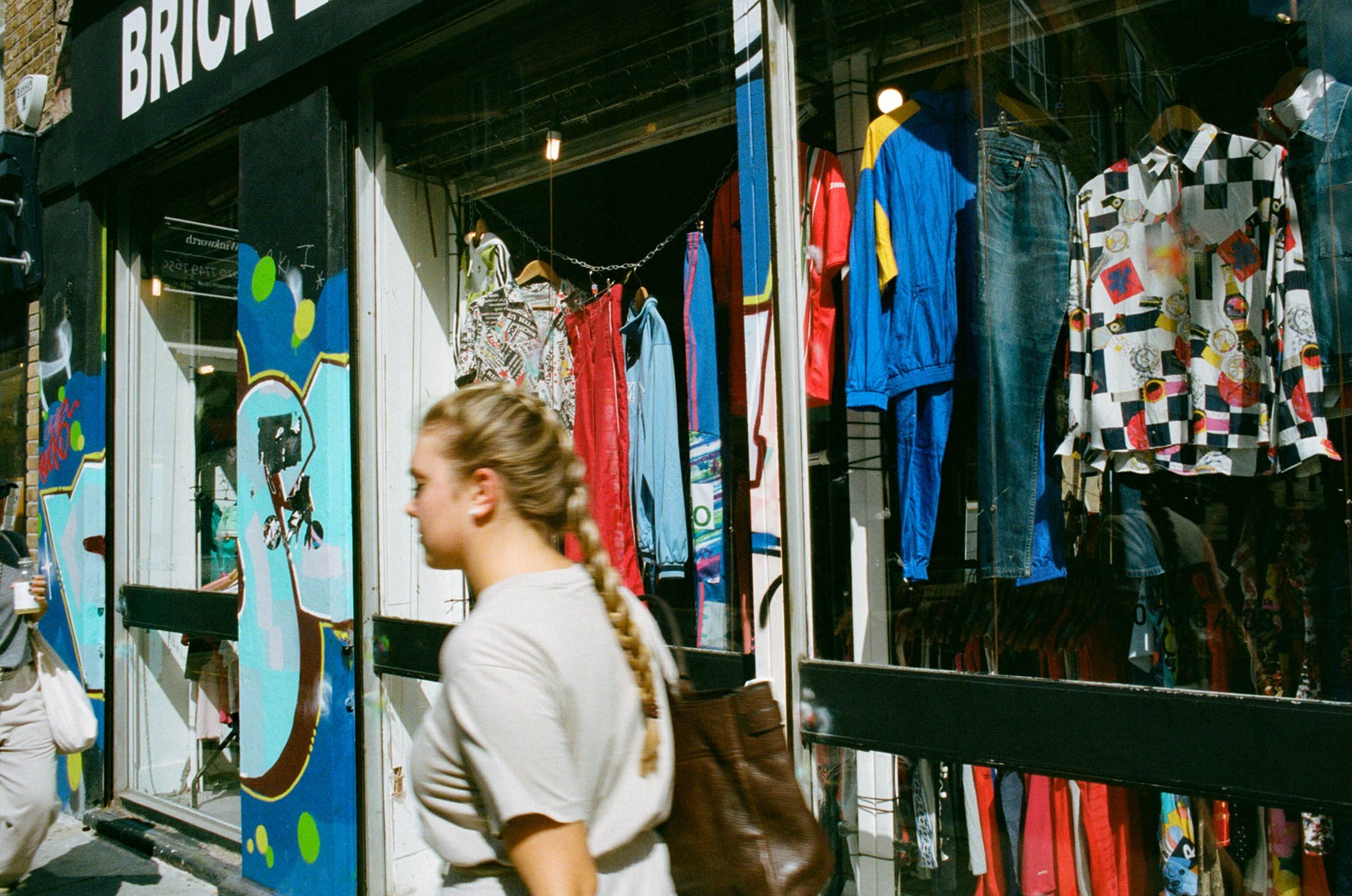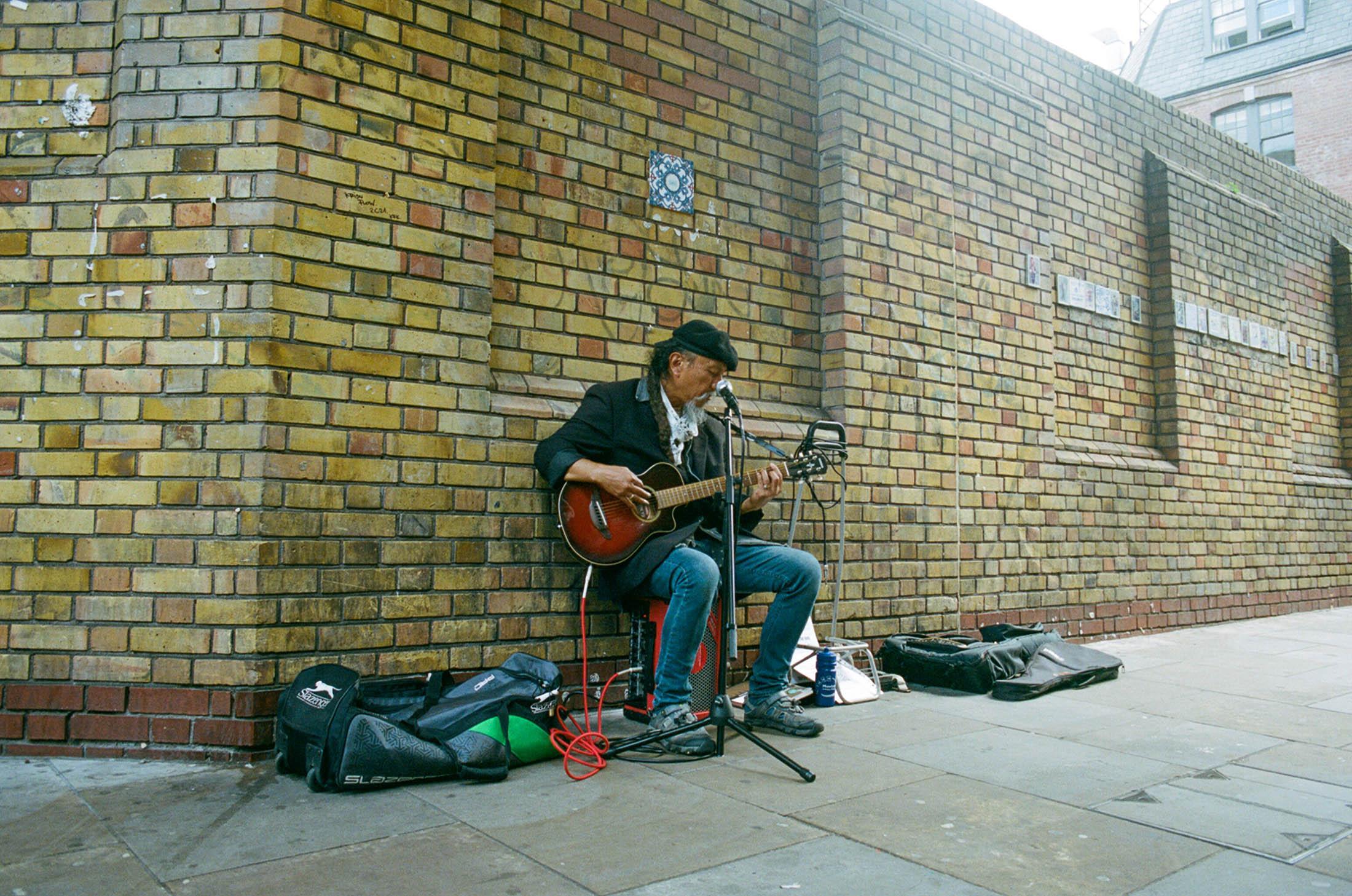 Closer to our office are the multitude of restaurants that the street is famous for. The flavours that scent the air here grew popular in this part of London in the 1970s, when the Bangladeshi community began to open their own restaurants. Today, this stretch of Brick Lane is a scene of rituals and attention to detail. The late morning sees the pavements washed down, ready for tables to be dragged out onto the street, their tops covered with white cloth and on each corner, a napkin beautifully folded. Colourful awnings overhead mean that even with the frequent London showers, diners can eat outdoors. For each day, no matter the weather or lack of occasion, is made a ceremony of; every evening restaurant hosts stand in the street calling out special offers to anyone who passes. Mirrors on the back walls of the dining rooms make them seem as if they go back and back; each pristine table is doubled and beyond them, Brick Lane appears again.